Meet Our Team
Stretch.com Practitioners
Downtown Dubai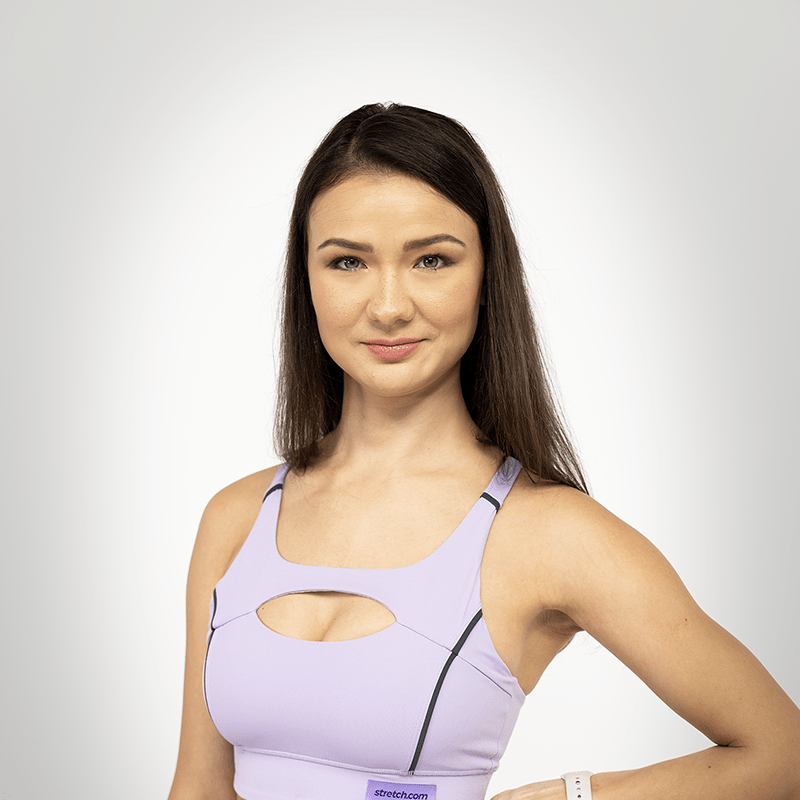 Hi everyone. My name is Mariya and I'm from Almaty, Kazakhstan.
Languages Spoken:
English (Advanced)
Russian (Native)
Kazakhstani (Beginner)
Certifications:
Group stretching
Personal stretching, International Fitnesspro School
About Me:
I discovered stretching in 2017 after going to my first stretching class. I wanted to work on my flexibility and pursue a lifetime dream of achieving my splits.
After a few years, I realized that I want to help people make their dreams come true and help them to be more flexible and feel more freedom in their movements.
I teach both fitness classes and stretching techniques.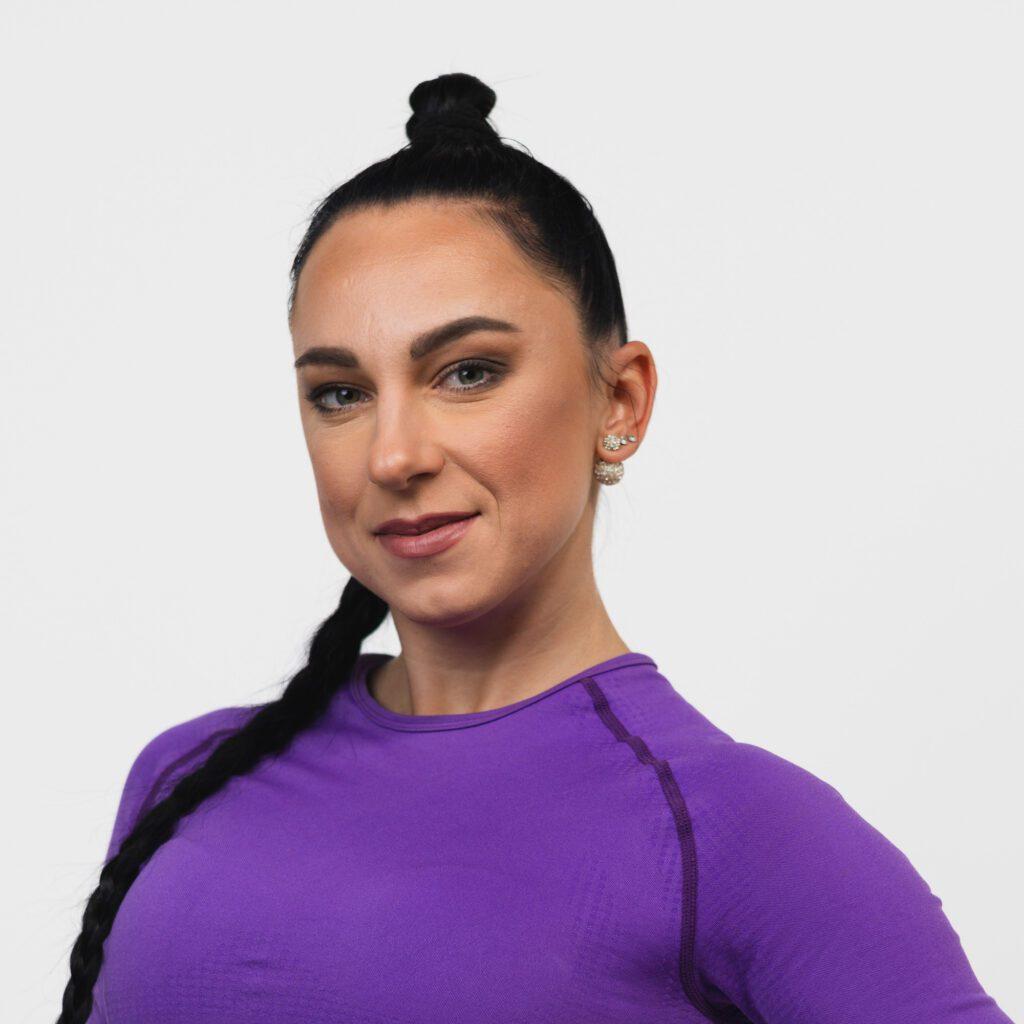 Hey everyone! My name is Viktoria and I'm from Russia.
Languages Spoken:
English (Intermediate)

Russian (Native)
Certifications:
Pole acrobatic sport

Exotic pole dance

High heels dance

Stretching

Personal training
About Me:
My initial education is in law. I started my sports journey over 8 years ago through dance and stretching. I fell in love with the industry and decided to pursue my certifications in group and personal training.
In time, I also discovered my love for pole acrobatic sport and started teaching pole sport, exotic pole dance, high heel dance, stretching, fitness, and bodybuilding.
Sports is everything to me. I love teaching and helping people become healthier and happier versions of themselves.
My favorite sports to teach are pole, dance, stretching, and fat-burning classes. My classes aren't easy but I guarantee you that after training with me, you'll achieve goals you never thought you could.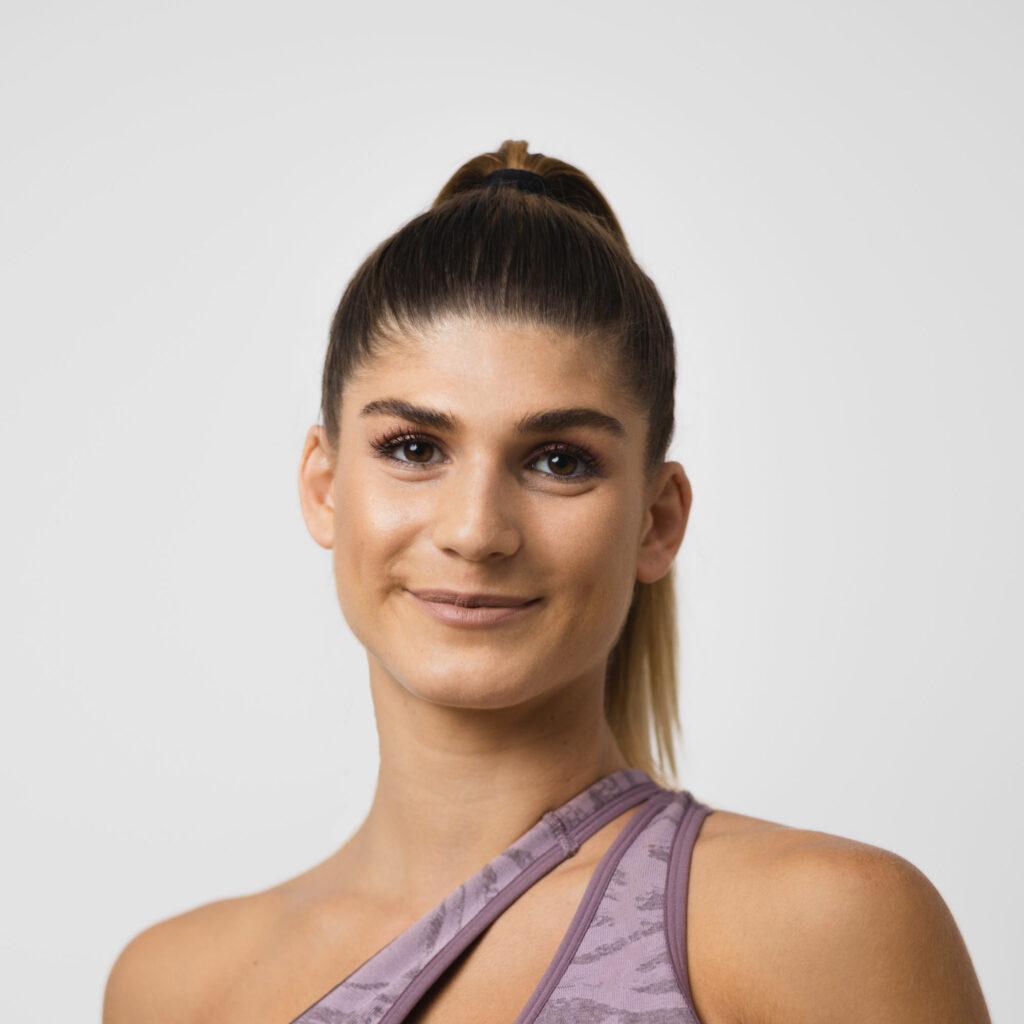 Hey Everyone! My name is Sona Souitsme.
Languages Spoken:
Greek (Native)

English (Advanced)
Diplomas and Certifications:
BSc. at Physical Education  & Sports Science 2012-2017. Specializing in Tennis

Personal training and EUROPE ACTIVE & European Health & Fitness Association (EHFA Standards – EGF Level 4) 2013

Group fitness- EUROPE ACTIVE & European Health & Fitness Association (EHFA Standards – EGF Level 4) 2013

Pilates instructor mat/ props at Grafts Hellas September 2015

Pilates instructor props at Grafts Hellas November 2015

Trampoline instructor At Radical fitness October 2014
About Me:
I'm coming from a very beautiful country, Greece. I have Bsc in Physical Education & Sports Science, specializing in tennis since 2016.
Alongside, graduated from EUROPE ACTIVE & European Health & Fitness Association (EHFA Standards – EGF Level 4).
Also, I am a Pilates mat & pros instructor. Since 2013, I've been working as a personal trainer, and fitness and stretch coach, in premium Centres of the industry.
For the last 5 years, I've been working as a personal trainer at the golf court in Greece, helping clients to heal from back pains, improve their body movements, and of course become the best version of themselves.
My Motto is: If the mind is set, the body will follow.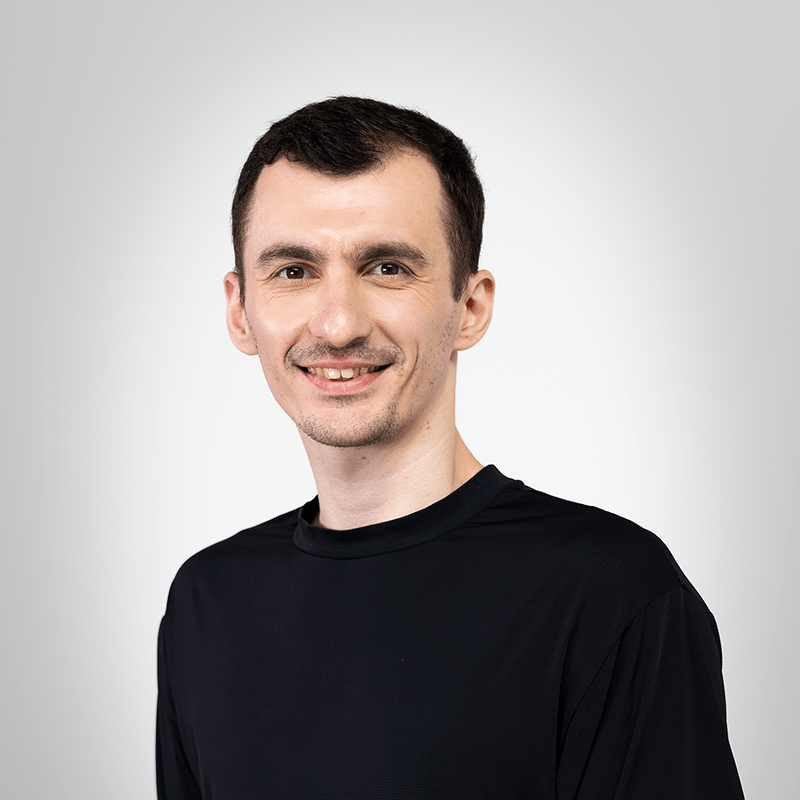 Name: Igor
Country: Macedonia
Languages spoken:
English (Fluent)

Macedonian (Native)
Specialty:
Body flexibility

Splits Expertise

Back flexibility

Mobility (shoulders)

Strength (body weight)

Handstands

Hand balances

Core Muscles

PNF stretching

Statics stretching

Dynamic stretching
Certifications:
High School Degree – SOTU "GORGI NAUMOV" Machining/Computer Numerical Control (CNC) Technology – Bitola, MK

O.A. Dip. (Sports Nutrition) – College Guild of Graduates Register (Online Academies); Fitness Instructor (level 2)  – Dubai, UAE;

2 Diplomas for Mastered II place Gymnastics for A league – seniors – Bitola, Macedonia;
About Me:
When I was a kid l started to train in artistic gymnastics. I have a big passion for gymnastics sport, because it gives you a lot of benefits like coordination, and flexibility, helps develop strength and many more things.
I've been a gymnast for more than 15 years. My biggest accomplishment in those years was winning 2 times in my home country's state competition.
In 2014 I've started to work as a gymnastics instructor in Macedonia. I was training kids and adults for Gymnastics beginners.
After I moved to Dubai where I was working as a Fitness instructor and trampoline coach. At that time I got a big passion for Fitness and Nutrition.
I've spent good quality time learning about the anatomy of the body, muscle strengthening, and eating a healthy and balanced diet.
Then I moved to Ukraine, where I was more focused on 1-1 personal training classes and once or twice a week group classes for core or handstand classes.
My goal was to help as many as possible individuals where the goal was to be more flexible, strengthen a part of the body or learn how to handstand/press to handstand.
The classes were done in a safe, high-quality, fast result and fun way to reach their goal.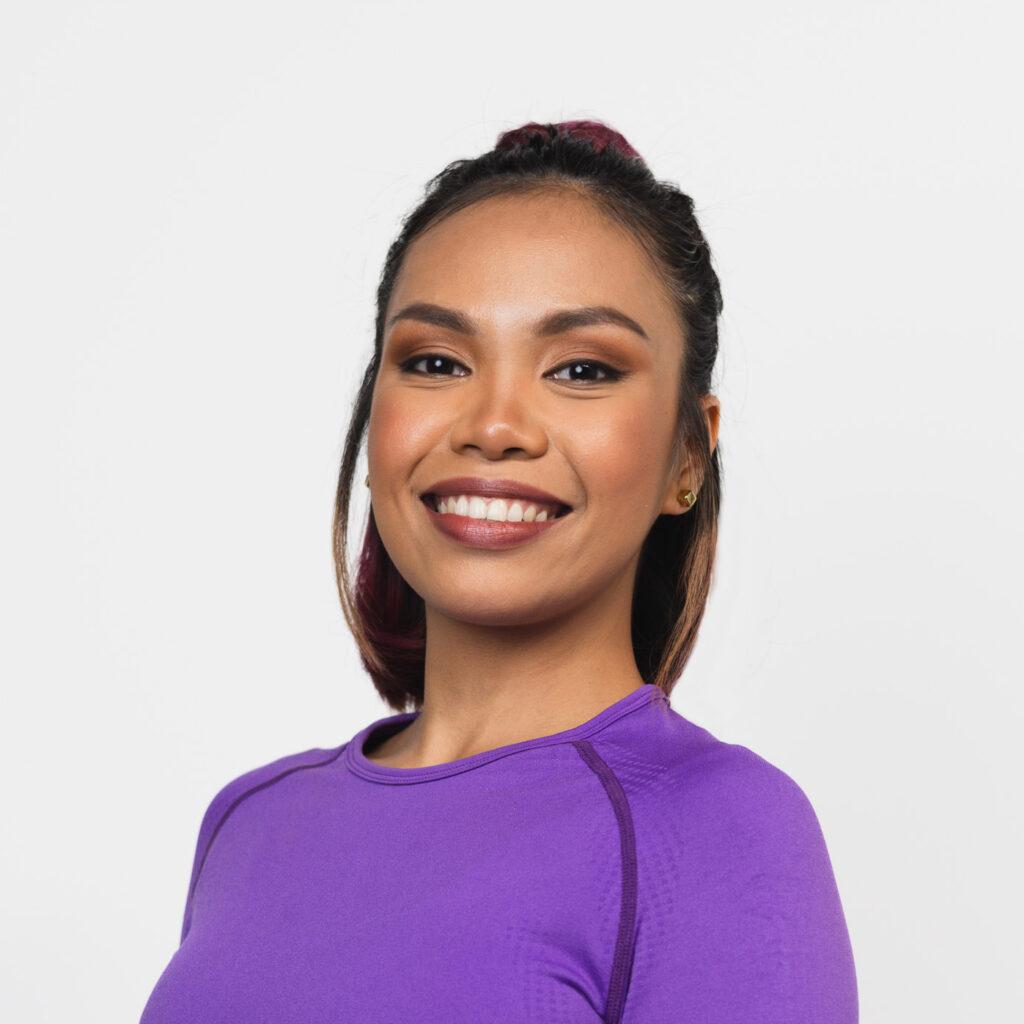 Hi! I'm A from the beautiful islands of the Philippines.
Languages spoken:
Specialties:
Healthy Back

Flexible Back

Splits

Body Mobility

Pilates

PNF stretching

Dynamic stretching

Active stretching

HIIT
Certifications:
REPs UAE Category A: Personal Trainer

REPs UAE Category C: Group Fitness Instructor

REPs UAE Category F: Pilates Instructor
About Me:
I used to have asthma when I was a kid. But I got to overcome it through mountain climbing, hiking, and outdoor cycling.
Fitness activities did me good with improving my endurance and making my lungs feel better, which eventually, caused my asthma to completely go away. It leads me to take a healthier path in life.
I became a personal trainer in 2018, working with clients to improve their strength, posture, weight management, balance, and flexibility, which helped them achieve confidence, happiness, and good quality of life.
I love teaching both in groups and one on one settings. I like to keep it fun, challenging, and exciting because I believe that training, whether it's a hardcore workout or a more relaxed stretching, should be enjoyable for everyone.
The best part about my job is being able to aid in the versatility that fitness and training can bring into people's lives because seeing each individual's transformations for the better good is always pure bliss!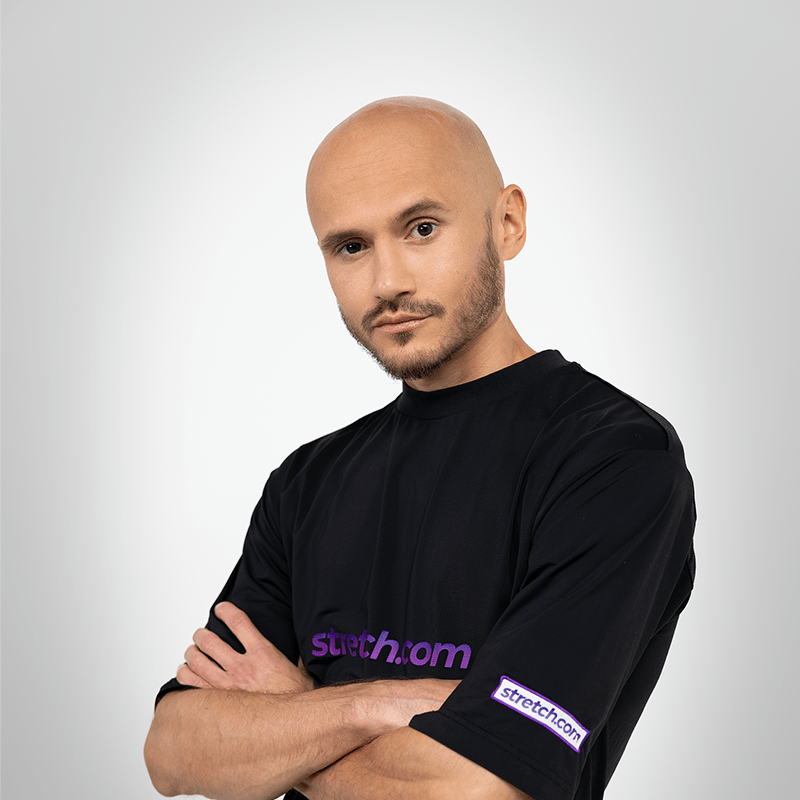 Hi, I'm Pavel Silantev.
Language:
Certifications:
16 years of an international dance career

Master of sport in dance (international classification)

Finalist in international dance competitions

Participated in international sports camps in Latin American dances, hip-hop, stretching, yoga, and ballet
About Me:
My journey of body transformation began in my childhood when I started to dance.
During my professional career, I've got an international grade of master in sports dances but before I use to create the perfect athlete from myself.
Lots of hours of stretching and workout, barre's and yoga, cardio and technique, international competitions and workshops. And now I would like to share my knowledge with you.
My main task is to help you fall in love with the movement, to make you flexible and strong, happy and joyful.
Book your class and let's enjoy our movement together.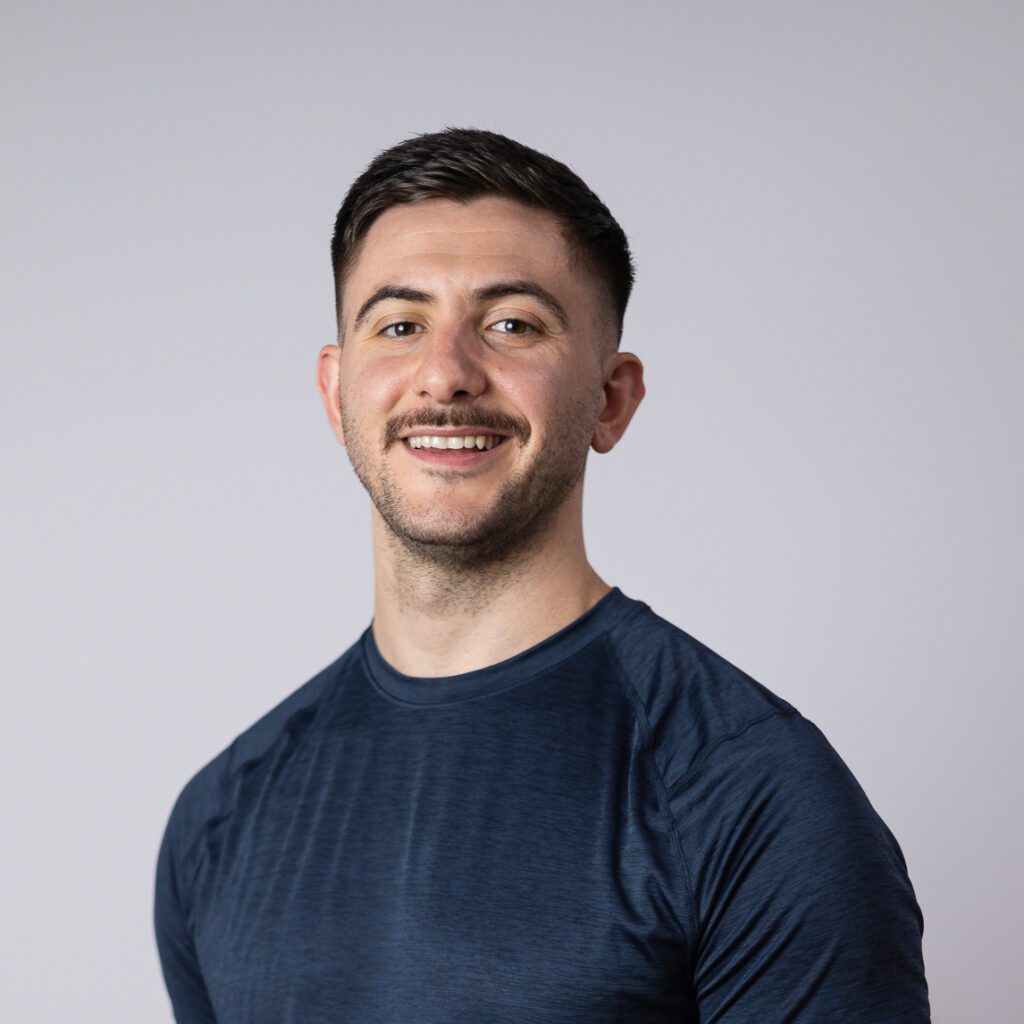 Country:
Languages Spoken:
Qualifications:
Bachelor of Social Science BSocSc (Level 8)

Higher National Diploma (Level 7) Neuromuscular Therapy

Coaching Certificate EQF (Level 4) Personal Training & Fitness Instructor
About Me:
Hey there, I'm Andy, Head Coach at Stretch.com.
My education journey started in the field of Social Science. This degree focused on the areas of sociology, psychology, and social policy.
This acted as a great foundation for me in terms of understanding human interaction as well as the cognitive and social behaviour of people, something that I feel is fundamental within the field of health, fitness, and wellness but is often undervalued.
I was always naturally a very sporty individual. For this reason, I decided to transition into the fitness world and became a qualified Personal Trainer and Fitness Instructor.
Certified in:
Metabolic Conditioning (METCON)

Kettlebell Training

Functional Movement Screening (FMS)

Nutrition
I had much success working with clients in areas ranging from
Extreme Weight Loss, 

Sport-Specific Athlete Training 

Post-Stroke Rehabilitation

Spinal Injury Rehabilitation

Nutrition Management
My interest however once I transitioned into this industry was always in injuries and rehabilitation processes.
I enrolled in the National Qualification for Neuromuscular Therapy. The field of neuromuscular therapy specializes in soft tissue therapy.
It assesses the nervous system and its relationship with the muscular and skeletal systems.
Alleviation of chronic pain and restoring natural body alignment is the goal of this line of physical therapy.
After completion of this course, I have specialties in the following:
Trigger Point Therapy

Muscle Energy Technique (MET)

Proprioceptive Neuromuscular Facilitation (PNF)

Positional Release

Strain CounterStrain (SCS) Technique

Integrated Neuromuscular Inhibition Technique (INIT)

Soft Tissue Release (STR)

Orthopaedic Sports Massage

Event Massage 

Massage Therapy
I have had much success with my clients in helping them minimize pain as well as assisting in injury prevention.
My goal is to continue to assist with people's issues through the training and constant upskilling of our coaches to ensure your experience at Stretch.com is one that is both beneficial as well as pleasant.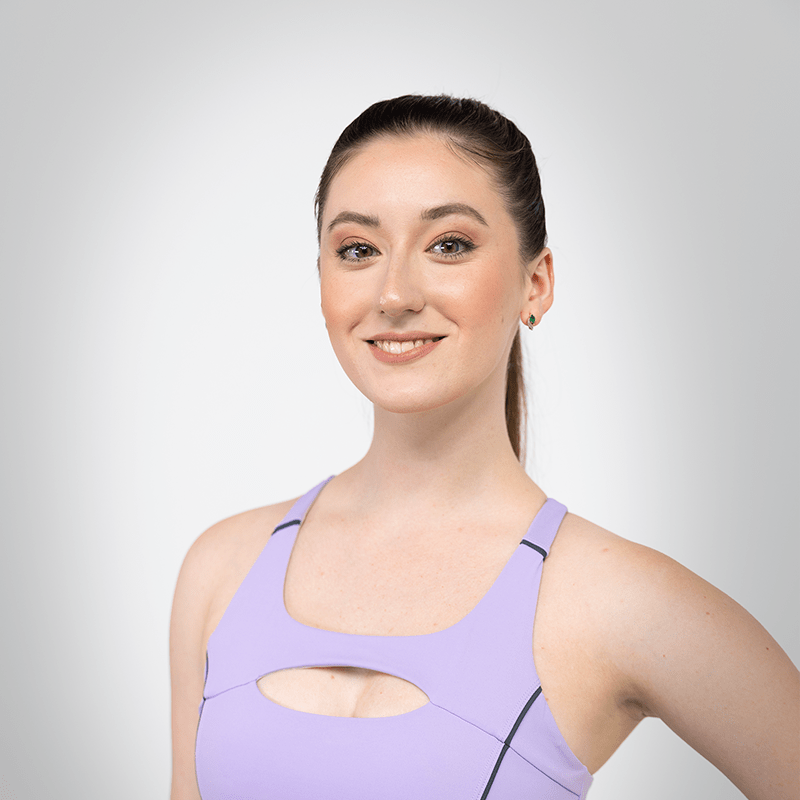 Hello, dear friends!
My name is Maria. I am a former ballet dancer from Saint Petersburg with two years of teaching experience.
I have successfully completed studies in classical dance, pilates, psychology, and pedagogy, so as a coach at Stretch.com, I invite you to join my body-ballet, full-body stretching, and splits classes.
During our sessions, you undergo delightful stretching and improve your stamina and strength, and as a bonus – feel confident in your abilities.
Let me be your guide and your buddy in the world of stretching.
Let's go get it!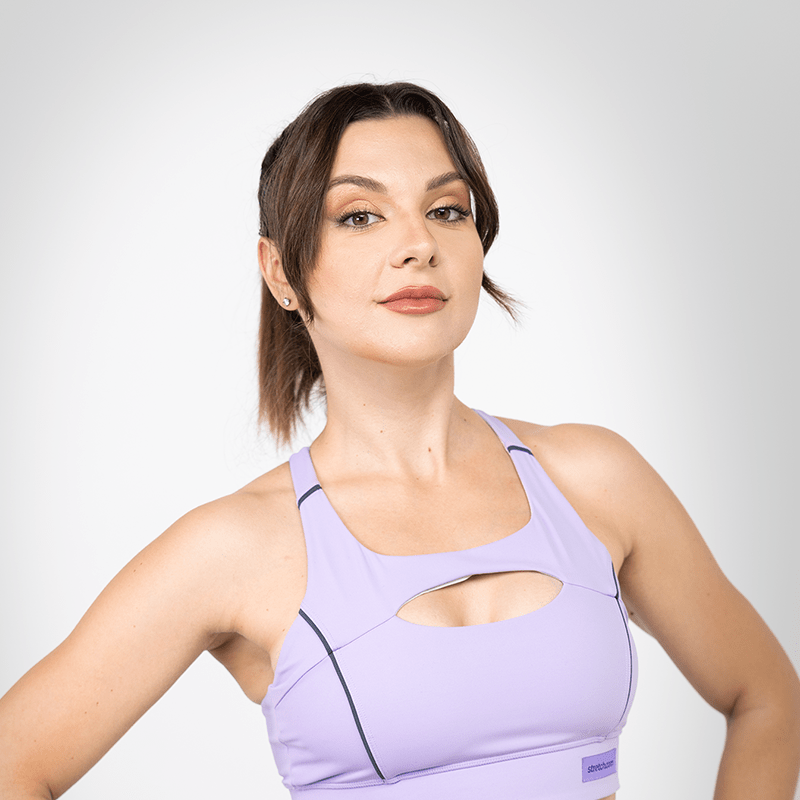 Hey Everyone! My name is Anastasia, from Russia, Ekaterinburg 
Languages spoken:
Expertise:
Pilates

Stretching 

Gym personal training (weight loss, weight gain)

Posture correction (healthy back)

Myofascial release 

Strength and functional training
Certifications and Diploma:
Fitness instructor of group programs (power workout, step aerobics, stretching, aerobics) 03/2018-06/2018 Ekaterinburg/Russia

Gym trainer (Weight loss, posture correction, gaining muscle mass, stretching) 08/2020-11/2020 Ekaterinburg/Russia

Adaptive Fitness instructor (Healthy back, stretching, Myofascial release, Pilates) 11/2021-03/2022 Ekaterinburg/Russia
About Me:
I became a fitness coach more than 5 years ago, before that, I was into fitness for more than 7 years. I like to teach classes and work personally.
I like to study and improve my knowledge in the field of fitness, to know the human body better, and to have more techniques to solve clients' problems.
Working with clients I helped them achieve their goals: to feel better, get rid of back pain, improve posture, get in better shape, improve their strength, improve movement, and be more flexible and also used to do fitness every day and enjoy every day of becoming better.
In my classes and personal training, you will learn that fitness is not a punishment, it's a way to take care of yourself, it's about how to improve your connection with your body and understand it better.
I know how to achieve your fitness goals in a smart and easy way.
I love my job because I can see the transformation of my clients not only how their bodies become better, it's how a strong healthy body affects their minds, making them happier and more confident.
Dubai Marina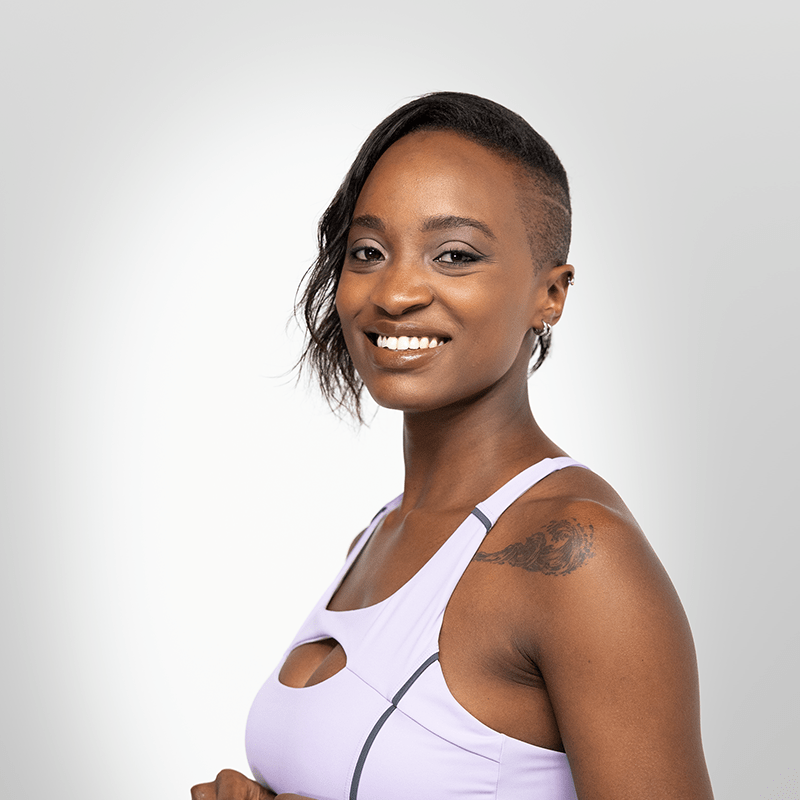 Hi everyone! My name is Stacey and I'm from Nairobi, Kenya.
Languages spoken:
English (Native)

Swahili (Native)
Training Specialty includes:
Weight Training

HIIT Training

Weight loss Training

Resistance Band work
Certifications:
BSc in Exercise and Sport Science at Kenyatta University, Kenya.

FINA Advanced Level 1 Swimming Coach
About Me:
I started my Fitness Journey in 2014 when I wanted to lose excess weight, little did I know that I would end up studying and pursuing Fitness professionally. I like to believe that this is truly my calling.
I'm passionate about living a holistic healthy lifestyle and being in the best physical form.
What I love most about my job is that it enables me to impact people's lives for the better and they can make changes that improve their well-being.
A Healthy lifestyle to me is more than lifting weights and having a good physique. It's about being in sync with your body, stretching, warming up, training intuitively, eating healthy, resting, and sleeping enough.
My style of teaching is interactive and involves using visual cues and explanations to help the client understand what we're doing and why we're doing it.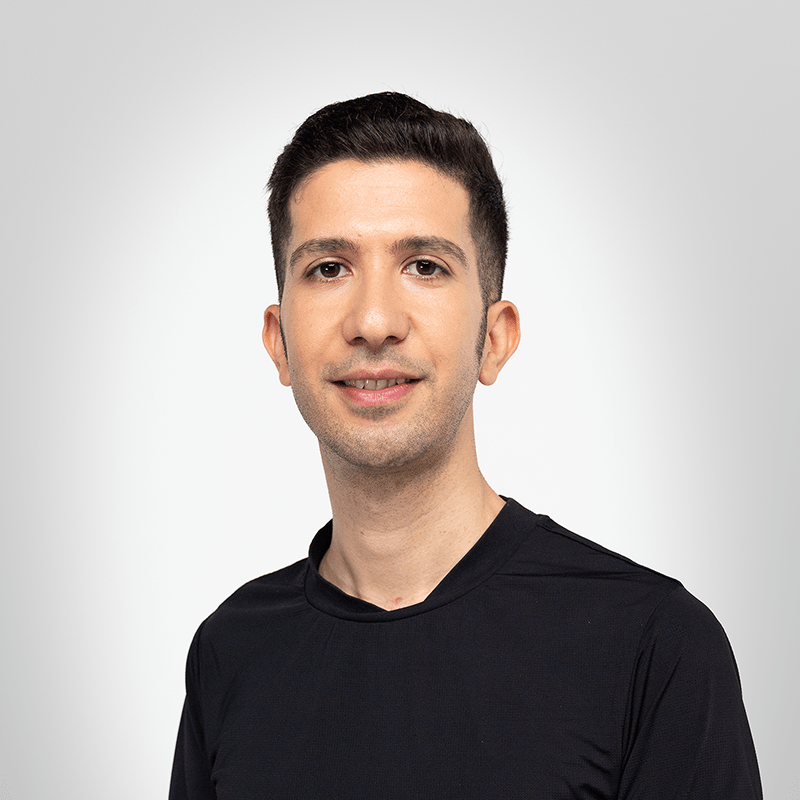 Hi everyone on, I'm Daniel, and I'm Occupational Therapist (ergo therapy).
Languages spoken:
Farsi (Native)

English (Intermediate)

Arabic (beginner)
Expertise:
Kinsiotapaing technique
PNF stretching
Active and Passive stretching
William's techniques for lower back
Sport therapy and sports rehabilitation
Task oriented techniques
Manual muscles Testing and training
Joint mobilization techniques
Postural alignment exercises
Physical therapy
Electro therapy
Neurological rehabilitation
Certifications:
Functional electrical stimulation 2022 ( Tehran university of medical science)
Neurosciencific Acupuncture 2021( Tehran university of medical science)
Analysis and management of Gait disorders 2018 ( Iranian occupational therapy association)
Biofeedback therapy 2018 ( Farmed school)
Neurofeedback therapy 2018 ( Farmed school)
Massage therapy in children and adults 2017 ( Iranian occupational therapy association)
Community Base mental health and psychological rehabilitation 2017 ( World association of psychological rehabilitation)
Master of science in occupational therapy 2017-2021
Bachelor of Science in occupational therapy 2012-2016
About Me:
I was born in Iran and I got my Master's and bachelor's in "Iran university of medical sciences".
And because of my major, I have good knowledge of neuroscience, biology, psychology, neuromuscular and musculoskeletal disease, human biomechanics, and anatomy.
I am here to help you in the first step to getting to know your body better, raising your body image, increasing your awareness about stretch benefits and giving you an amazing experience with stretching techniques, and then teaching you how to prevent the injury.
If you have any injuries or postural disorder, pain or muscular discomfort help you to solve it for a better future and joyful life.
For the last 5 years, I worked in different rehabilitation clinics with different clients of different ages.
I worked with neonates, toddlers, children, adolescents, adults, and elderly adults to help them have more enjoyable and meaningful life by helping them improve their physical, neurological, and psychological disorders by using rehabilitation techniques such as manual therapy, stretching, muscle strength, mindfulness, cognitive therapy, kinesiotaping, joint mobilization, PNF, and…
In these years, in addition, I have worked with more than 2000 people with different injuries such as sports injuries, stroke, myopathy, neuropathy, joint problems( osteoarthritis, rheumatoid arthritis, and…) rehabilitation after surgery, fracture, burn, and…
I tried to increase my knowledge so that I learned more and I have certification in Acupuncture, children, and adults massage, and mental health.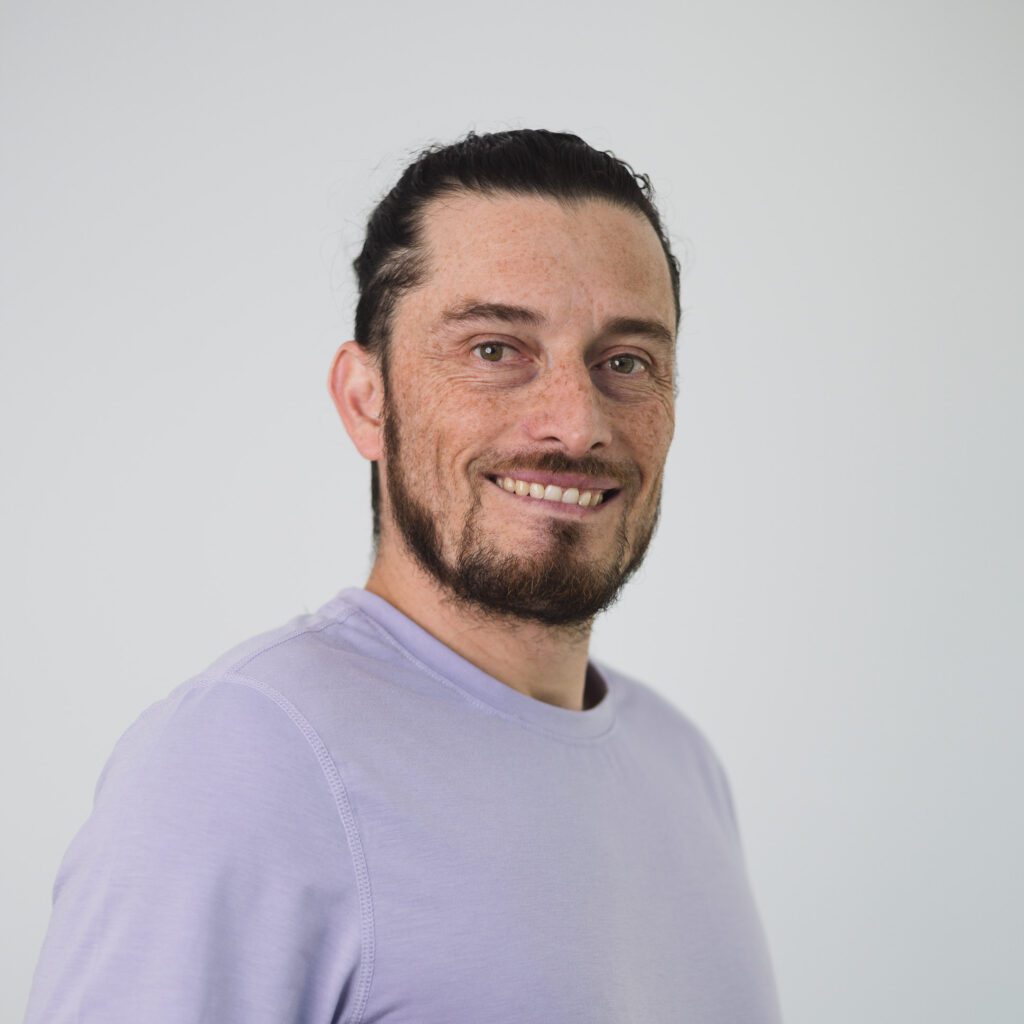 My name is Ricardo Enrique Montenegro Martinez from Colombia!
Languages spoken:
Colombian (Native)

Spanish (Fluent)

Portuguese (Fluent)

English (Intermediate)
Specialty:
PNF Stretching

Dynamic stretching

Active stretching

Personal Training

Ex-Olympian Diver

Physiotherapist

Chiropractor

Core Conditioning

Handstands

Sport massage

Body Building

Endurance
About Me:
I am a former professional diver with more than 20 years of experience in the discipline, as well as a physiotherapist and chiropractor and a personal trainer specializing in fitness bodybuilding and personalized training to improve general health, now improving flexibility mobility, and stretching for everyone.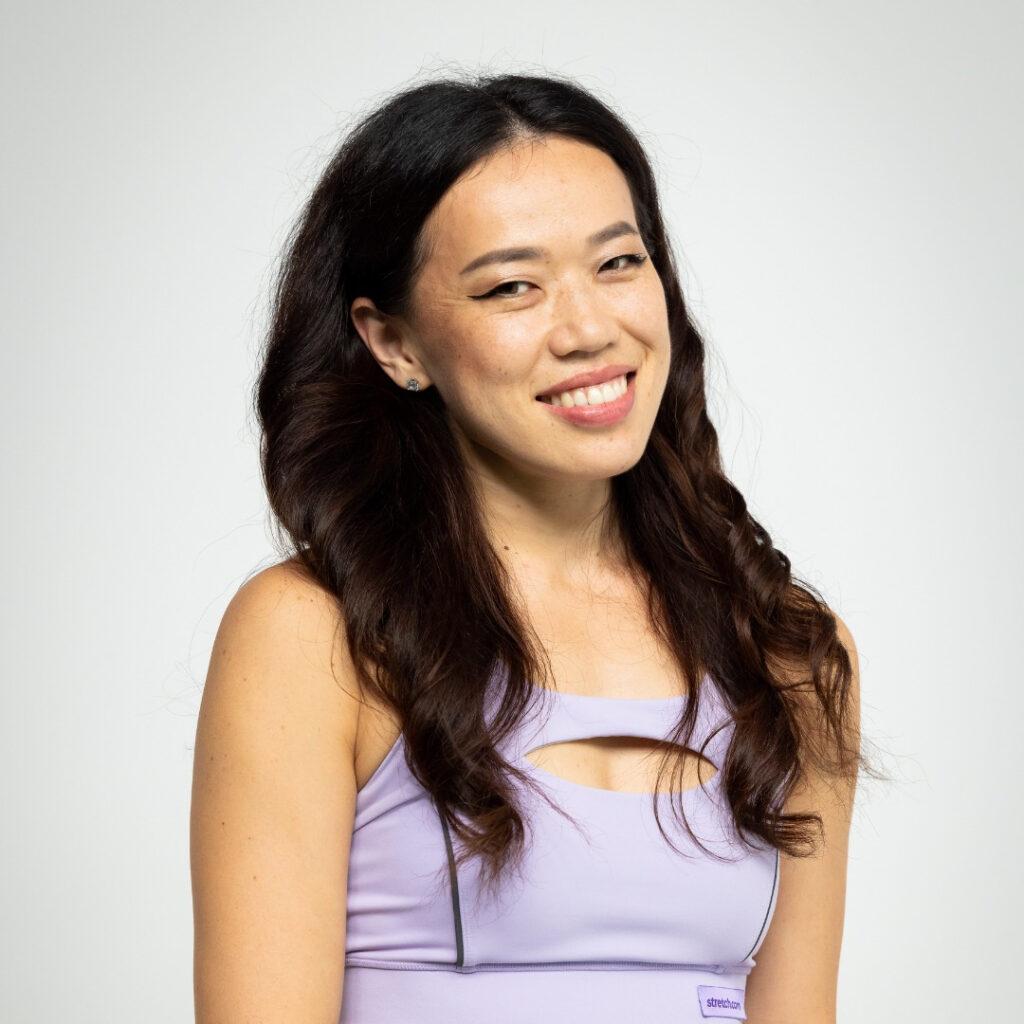 Hello, My name is Tolgonai.
Languages spoken:
Expertise:
PNF stretching

Static stretching

Dynamic stretching

Yoga
About me:
I was always passionate about health and wellness, yet being a very spiritual person I instantly fell in love with yoga while living in Beijing, China in 2011.
From then on, I became an assiduous yoga practitioner, realizing that it not only made me feel better on a physical level but on a spiritual and mental level too, on and off of the mat.
At some point in my life, I felt the need to share what was learned throughout this venture with the people around me and that's how I decided to take a step forward to become a yoga teacher.
Teaching and helping others to be more proficient on their wellness journey became my new passion.
Combined with my Fitness Instructing activity I have been inspired by my students and clients to become a better teacher, professional, and better person above all.
 "Health is a state of complete harmony of the body, mind, and spirit. When one is free from physical disabilities and mental distractions, the gates of the soul open."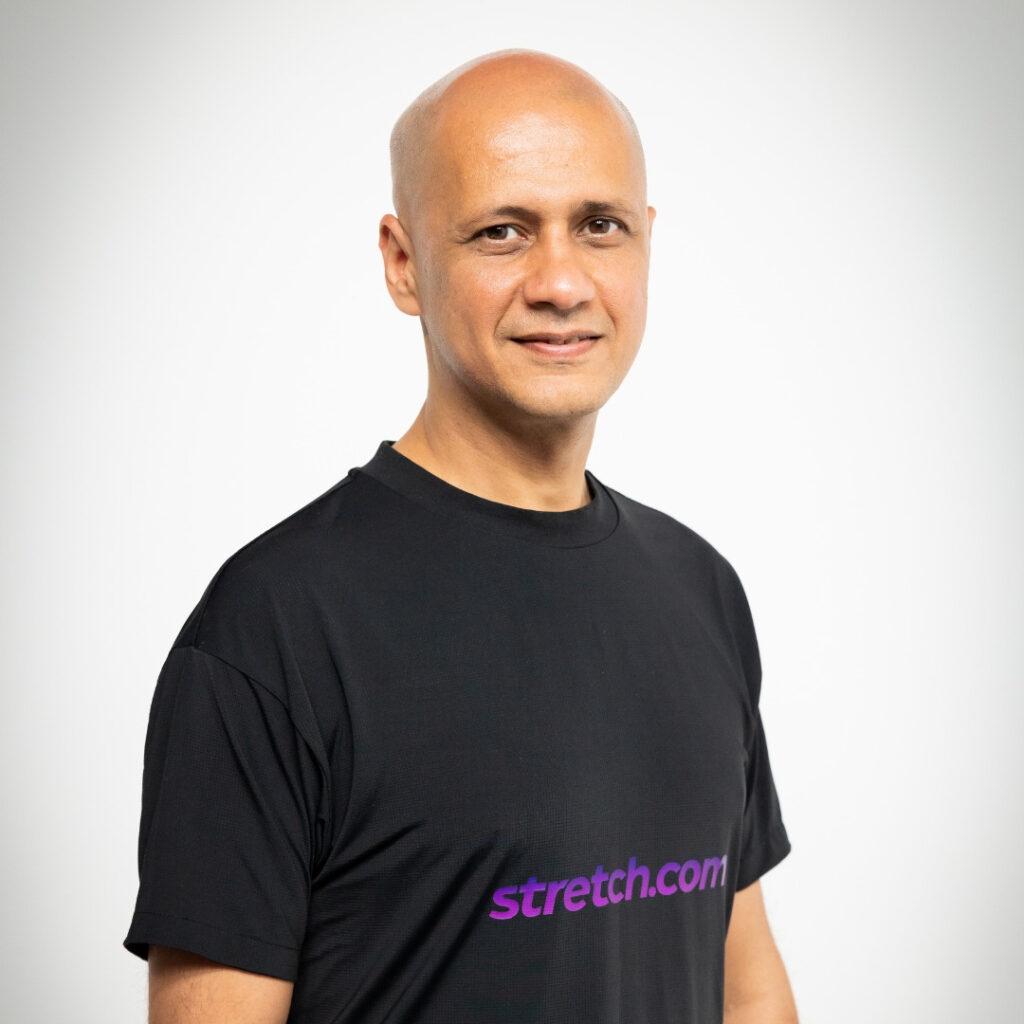 I am originally from India, always been inclined toward spirituality. Very open-minded and believes in real-life experiences.
I got certified by one of the oldest institutes in the world, the Yoga Institute Mumbai. I also got training in the Bihar School of Yoga tradition from spiritual gurus and gathered knowledge in Rishikesh with masters from different schools of yoga.
I'm in practice for more than 10 years, registered with Yoga Alliance USA, Yoga Alliance Professional UK, Ayush Govt. of India, and REPs UAE.
I'm a Meditation Master and an international Yoga Teacher in Hatha, Ashtanga, Vinyasa, Aerial, Yogalates Pilates Matwork, Tantra, and Yoga Teacher Trainer.
I have a passion to empower participants in their practice and educate students on their journey to become yoga teachers.
An authentic and holistic approach to balance the body and mind by synchronizing the breath.
I will guide you through a conscious, mindful practice with a focus on the breath while diving deep into each pose to create balance and harmony.
Practicing with me will benefit you to get clarity in life and deeper knowledge of asana and meditation techniques.
In addition, I'm also a CThA UK-certified practitioner of Yoga Stretches with a massage.
Yoga stretches with massage are a technique to activate and balance energetic flow in the body. It can also benefit from releasing muscle tension, and tightness, and developing mobility and flexibility.
Excited and looking forward to my journey here at Stretch.com!
Languages I speak
About Me:
I'm Negar Forootan from Iran (Tehran), I was born on 27th April 1998, 24 years old.
With over 8 years of experience in workouts and 4 years experience of in personal training.
I decided to immigrate to Dubai to expand my knowledge and experience an international stage of training, as well as communicate and help trainees from different nations.
I'm a functional, stretching instructor, with stretching management expertise which uses a combination of yoga and gymnastics training skills.
I can design integrated programs based on client assessment, goals, abilities, and needs. Also, incorporate a variety of flexibility and mobility strengths movements to create the best result possible.
My work history includes yoga, stretching, functional and fitness training in several gyms in my home country, holding online stretching (split and back bend drills) courses on Instagram and working in Train SF gym in Dubai.
I was certified by the national academy of science and medicine in August 2022. And also took part in body anatomy, and program designing at Iran's academy of sports science in 2020.
In my opinion, life is a kind of movement, to me, the point of stretching and getting more flexible apart from numerous physical benefits is to become more fluid.
(Such as Improving your ability to do daily activities, increasing blood flow also decreasing injuries, and helping your joints move through your full range of motion)
Consequently, you feel, you are more alive, and eventually the more life there is for you.
That's the reason I maintain stretching training for my entire life till the moment I'm alive.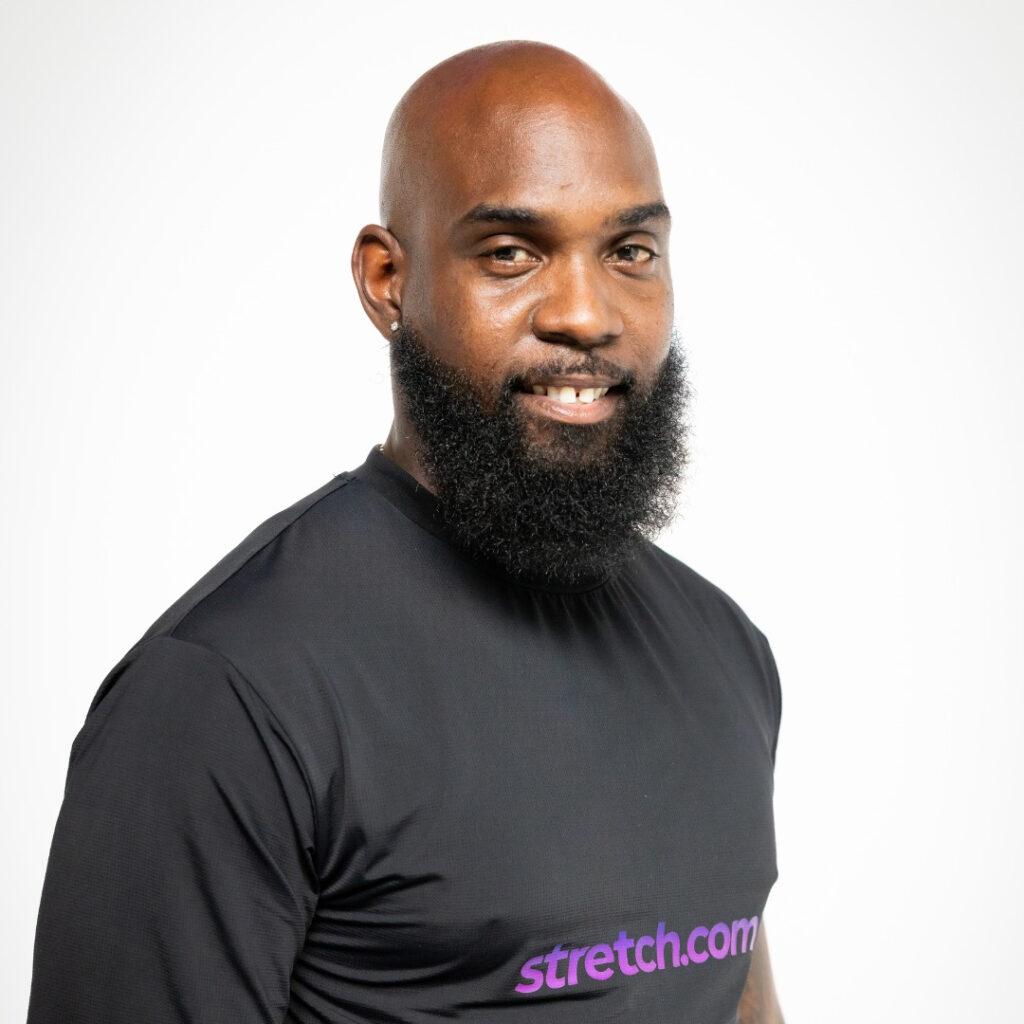 Languages spoken:
Expertise:
PNF stretching

Static stretching

Dynamic stretching

Deep Stretching

Massage therapy

Sports massage therapy

Pro Cricket player
About Me:
Hey beautiful people I'm your coach Dane and I was blessed by the gods to have had a fantastic career as a professional cricketer.
A career that took me places and allowed me to meet some of the most incredible people around the world from the UK all the way to Australia.
While playing I always use to think about self-development and how can I add value to myself outside of playing.
Being deep into sports I saw how injuries, recovery, and high performance can be mentally and physically challenging for athletes and the effects it can have on people who are not even as active as a professional athletes.
For this reason, is why I decided to shift more toward massage therapy and deep stretching. I am qualified as to level 3 ITEC Sports Massage therapist.
Being goal-oriented, passionate, a strong communicator, and a people person allows me to speak and share my knowledge with other athletes who then became clients.
I have an obsession with watching people's pains and aches melt away from my work as well as the recovery rate improves.
That warm feeling of satisfaction you get in your stomach Stretch.com is such an amazing place to do and feel just that. You stroll in stiff and restricted and walk out feeling incredible.