Meet Our Team
Stretch.com Practitioners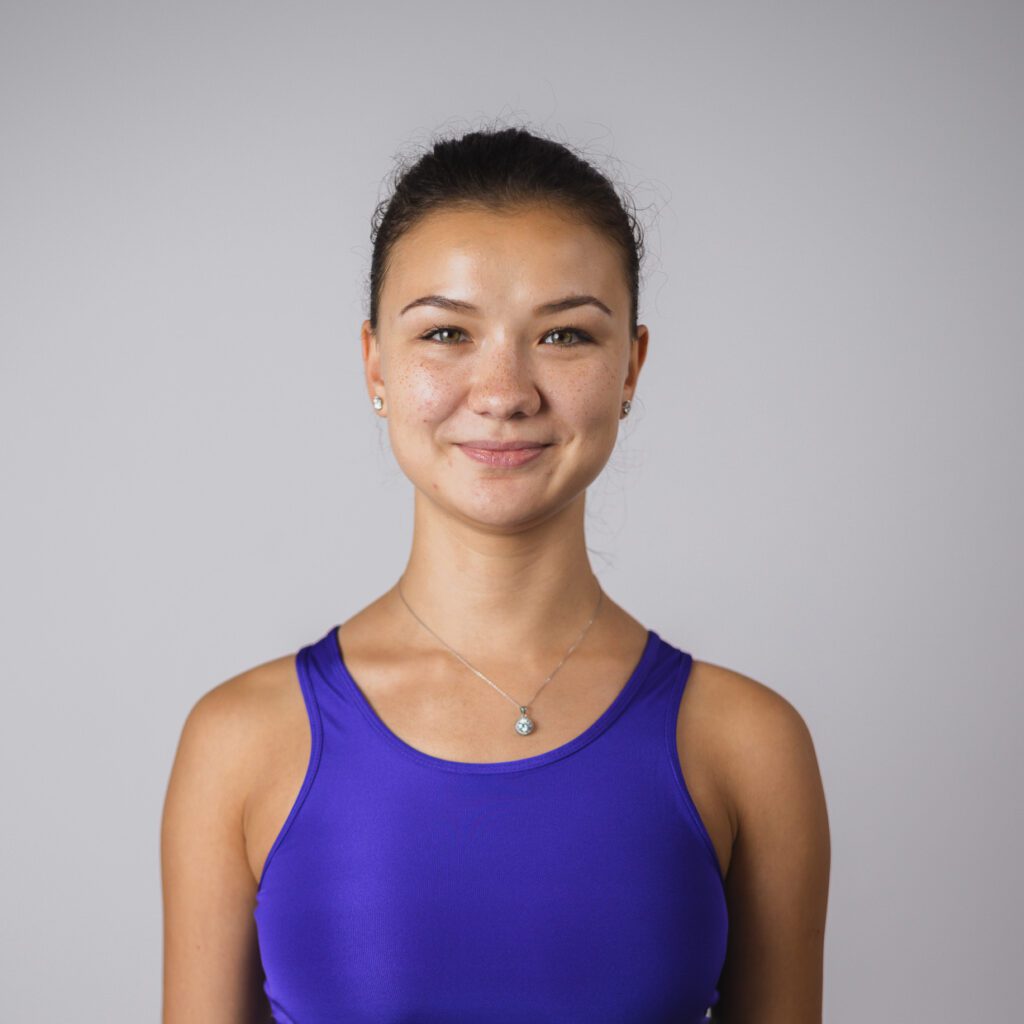 Hi everyone. My name is Mariya and I'm from Almaty, Kazakhstan.
I discovered stretching in 2017 after going to my first stretching class. I wanted to work on my flexibility and pursue a lifetime dream of achieving my splits.
After a few years, I realised that I want to help people make their dreams come true and help them to be more flexible and feel more freedom in their movements.
I teach both fitness classes and stretching techniques.
Certifications:
Group and personal stretching at International Fitnesspro School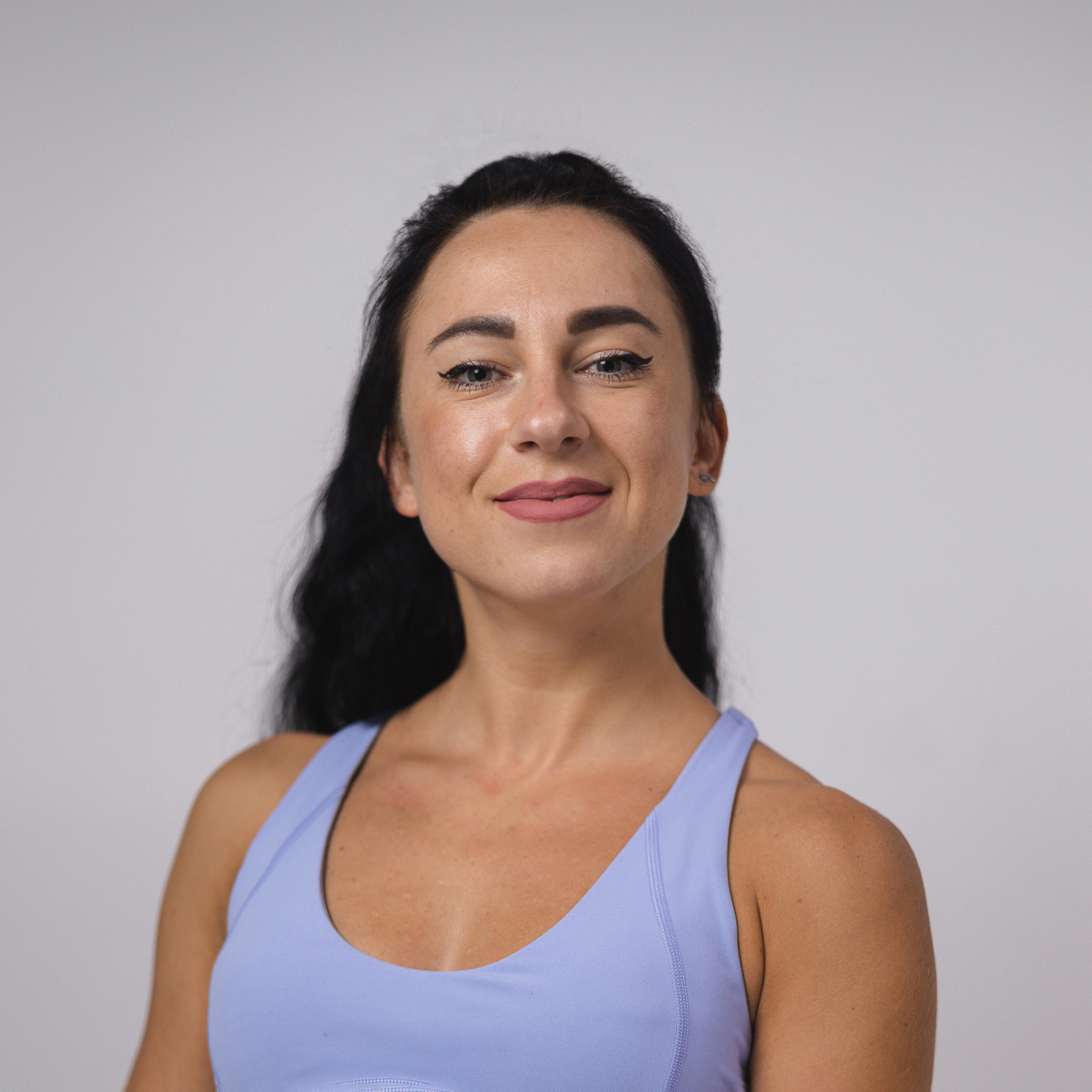 Hey everyone! My name is Viktoria and I'm from Russia.
My initial education is law. I started my sports journey over 8 years ago through dance and stretching. I fell in love with the industry and decided to pursue my certifications in group and personal training.
In time, I also discovered my love for pole acrobatic sport and started teaching pole sport, exotic pole dance, high heel dance, stretching, fitness, and bodybuilding.
Sports is everything to me. I love teaching and helping people become healthier and happier versions of themselves.
My favorite sports to teach are pole, dance, stretching, and fat burning classes. My classes aren't easy but I guarantee you that after training with me, you'll achieve goals you never thought you could.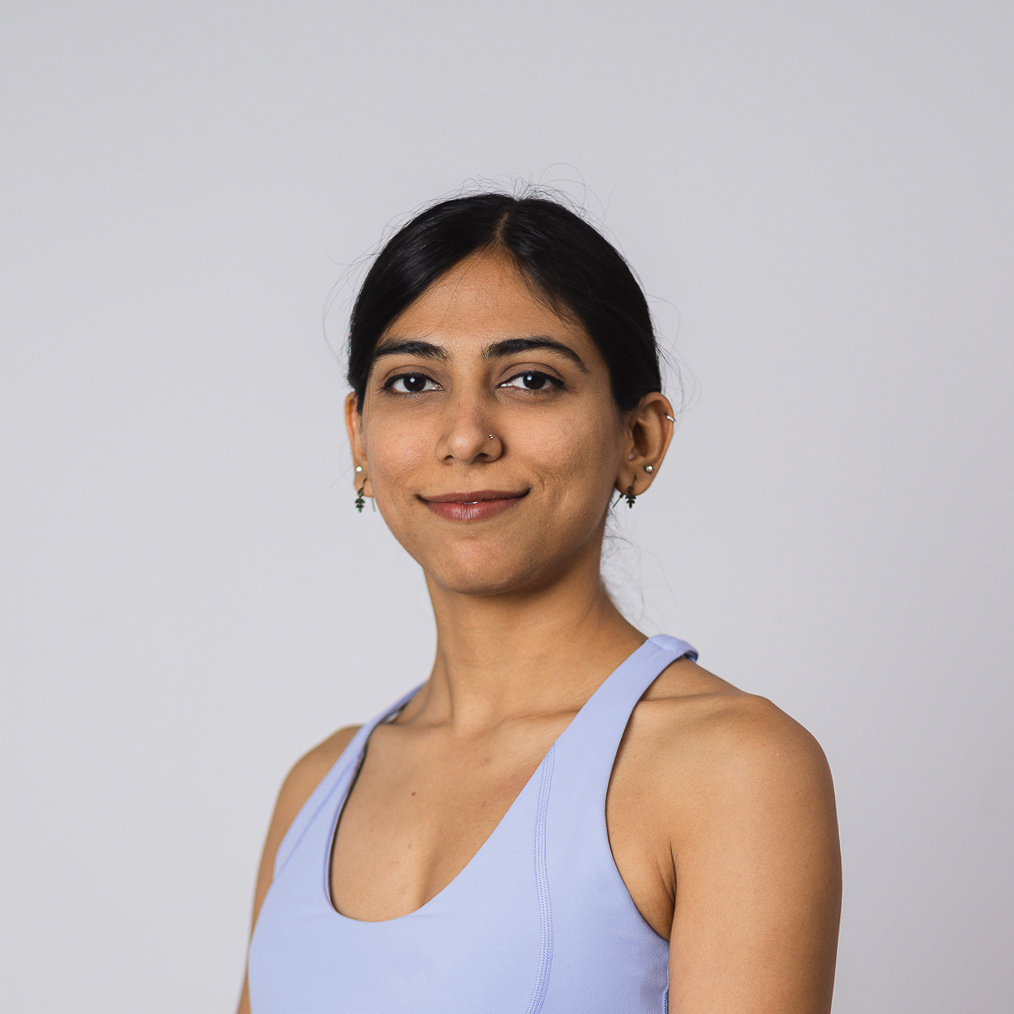 My name is Fiza Liaqat. I am from Karachi, Pakistan.
Languages spoken:
Specialties:
PNF stretching
Dynamic stretching
Active stretching
Body strength
Hatha yoga
Vinyasa yoga
Yin yoga
Meditation
Aerial yoga
Prenatal practices
Certifications:
50 Hour Yin Yoga Teachers Training, Karma Yoga 2021
100 Hour Hatha and Vinyasa Teachers Training, Karma Yoga 2021
60 Hour Aerial Yoga Teachers Training, Maya Blu Yoga 2021
85 Hour Prenatal and Postnatal Teachers Training, Maya Blu Yoga, 2022
About:
Ever since I was a kid, I was into sports; basketball, table tennis, throwball, netball, volleyball, and football. However, during my undergraduate studies (BSc. Accounting and Finance), my love for football grew. I became the vice captain and captain of my varsity football team in my last two years. I was awarded 'Best Sportswoman' by my peers.
I continued playing football upon graduating with Karachi United Football Club. I was fortunate to take part in our National Women Football Tournament in 2018. In Dubai, I've been playing with Predators FC and Smart FC.
While working in a high stress corporate job, I sought out yoga as a way to unwind and be more active. It was during this time that I connected deeply with the practice of yoga. As a person who thrives at multitasking and keeping myself busy, yoga guided me on how to honor my body, energy, and time. It inspired me to detach from the world intermittently and focus on myself.
Having experienced the benefits of yoga first hand, I decided to embark on a new journey as a yoga teacher. Through my own years of practice and education, I believe yoga can be for everyone. Irrespective of what your end goal is; gaining flexibility, improving fitness, or challenging yourself mentally and physically, yoga is a great boost to anyone's exercise regimen.
As a yoga teacher, my aim is to create a safe and nurturing space for my students, be it in a group class or a personal class. I focus on assisting my students to develop a connection between their breath, body and mind, in order for them to deepen their practice.
In my yoga classes, I lead with the practice of meditation and pranayama. All the asanas I teach come with their modifications for all types of students. My goal is to enable my students to be confident in their bodies and help them to reach their goals.
My specialty is strength and flexibility, while focusing on alignment of the body for various yoga poses. My classes will have sequences that work with dynamic and passive stretching to increase flexibility.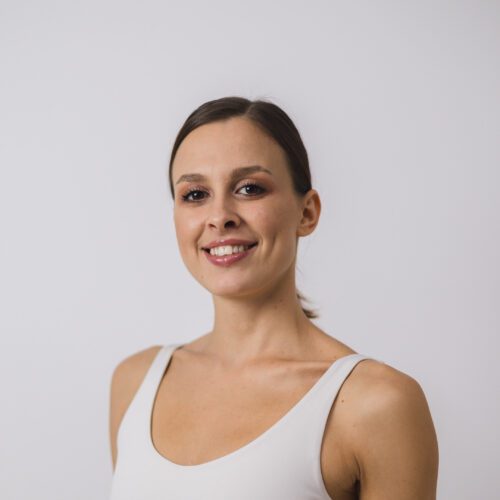 Languages:
Expertise;
PNF stretching

Static stretching

Dynamic stretching

Splits expertise

Back health

Kundalini yoga

Ballet

Hatha yoga

Dancer
About Me:
  My experience consists of several ingredients:
participation in a dance show-ballet from the age of 5

performances in the student cheerleading team

work as a show ballet dancer in Morocco for 3 months

passion for hatha yoga
  At one point, I found my hobby in the profession.
  I have 4 years of successful experience as a stretching trainer
  4 diplomas and a bunch of certificates in different areas of activity, but the most important of them is a diploma of a stretching trainer.  I have been practicing yoga Thai massage for two years.
  "The human body is the temple of the soul.  The temple, like any building, must have a solid foundation.  So, my goal is to help people create a solid foundation for the temple of their soul.
  "My mission is to make people physically healthier"
  "If you ask me what kind of "good coach" he is, I invite you to my training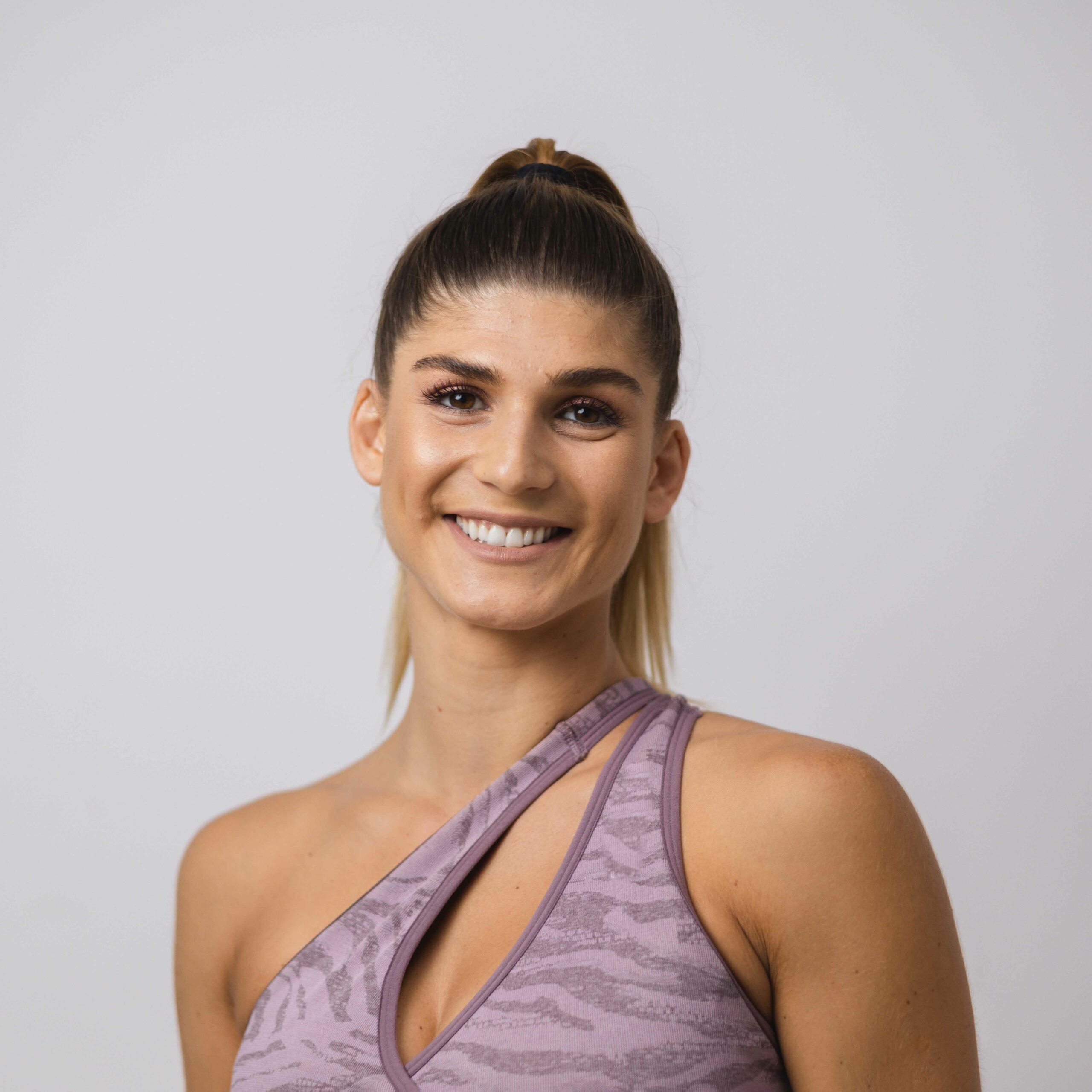 Hey Everyone! My name is Sona Souitsme.
Languages spoken:
Diplomas and Certifications:
BSc. at Physical Education  & Sports Science 2012-2017. Specializing in Tennis

Personal training and EUROPE ACTIVE & European Health & Fitness Association (EHFA Standards – EGF Level 4) 2013

Group fitness- EUROPE ACTIVE & European Health & Fitness Association (EHFA Standards – EGF Level 4) 2013

Pilates instructor mat/ props at Grafts Hellas September 2015

Pilates instructor props at Grafts Hellas November 2015

Trampoline instructor At Radical fitness October 2014
About Me:
I'm coming from a very beautiful country, Greece. I have Bsc at Physical Education  & Sports Science, specialising in tennis since 2016. Alongside, graduated from EUROPE ACTIVE & European Health & Fitness Association (EHFA Standards – EGF Level 4). Also, I am a Pilates mat & pros instructor. Since 2013, I ve been working as a personal trainer, fitness and stretch coach , in premium Centres of the industry . The last 5 years I've been working as a personal trainer at the golf court in Greece, helping clients to heal from back pains, to improve their body movements and of course to become the best version of themselves.
My Motto is: If the mind is set, the body will follow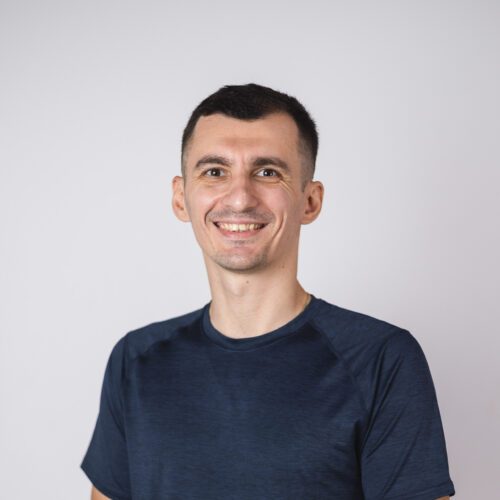 Name: 
Igor
Country: Macedonia
Languages:
English
Native Macedonian
Specialty:
Body flexibility

Splits Expertise

Back flexibility

Mobility (shoulders)

Strength (body weight)

Handstands

Hand balances

Core Muscles

PNF stretching

Statics stretching

Dynamic stretching
Certifications:
High School Degree – SOTU "GORGI NAUMOV" Machining/Computer Numerical Control (CNC) Technology – Bitola, MK




O.A. Dip. (Sports Nutrition) – College Guild of Graduates Register (Online Academies);




  Fitness Instructor (level 2)  – Dubai, UAE;




   2 Diplomas for Mastered II place Gymnastics for A league – seniors – Bitola, Macedonia;
About Me:
When I was as a kid l started to train artistic gymnastics. I have big passion for the gymnastics sport, because it gives you a lot of benefits like coordination, flexibility, help develop strength and many more things.

I've been as a gymnast for more than 15 years. My biggest accomplishment in those year was winning 2 time on home country state competition.

In 2014 I've started to work as a gymnastics instructor in Macedonia.  I was training kids and adults for Gymnastics beginners. After I moved in Dubai where I was working as a Fitness instructor and trampoline coach. In that time i got big passion about Fitness and Nutrition. I've spend good quality time learning about the anatomy of body, muscle strengthening, eating healthy and balanced diet.

Than I moved to Ukraine, where I was more focus on 1-1 personal training classes and once or twice a week group classes for core or handstand classes. My goal was to help as much as possible individuals where there goal was to be more flexible, strengthening part of body or learn how to to handstand/press to handstand. The classes were done in a safe, high quality, fast result and fun way to reach there goal.
Hi! I'm A from the beautiful islands of the Philippines.
Languages 
• English
• Tagalog
Specialties:
• Healthy Back
• Flexible Back
• Splits
• Body Mobility
• Pilates
• PNF stretching
• Dynamic stretching
• Active stretching
• HIIT
Certifications:
• REPs UAE Category A: Personal Trainer
• REPs UAE Category C: Group Fitness Instructor
• REPs UAE Category F: Pilates Instructor
About Me:
I used to have asthma when I was a kid. But I got to overcome it through mountain climbing, hiking, and outdoor cycling. Fitness activities did me good with improving my endurance and making my lungs feel better, which eventually, caused my asthma to completely go away. It lead me to take a healthier path in life.
I became a personal trainer in 2018, working with clients to improve their strength, posture, weight management, balance, and flexibility, which helped them achieve confidence, happiness, and good quality of life.
I love teaching both in groups and one on one setting. I like to keep it fun, challenging, and exciting, because I believe that training, whether it's a hardcore workout or a more relaxed stretching, should be enjoyable for everyone.
The best part about my job is being able to aid in the versatililty that fitness and training can bring into people's lives, because seeing each individual's transformations for the better good is always pure bliss!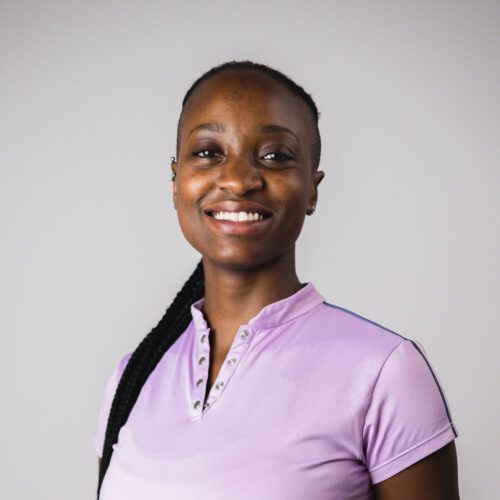 Hi everyone! My name is Stacey and I'm from Nairobi, Kenya.
I started my Fitness Journey in 2014 when I wanted to lose excess weight, little did I know that I would end up studying and pursuing Fitness professionally. I like to believe that this is truly my calling.
I'm passionate about living a holistic healthy lifestyle and being in the best physical form.
What I love most about my job is that it enables me to impact people's lives for the better and they are able to make changes that improve their well-being.
A Healthy lifestyle to me is more than lifting weights and having a good physique. It's about being in sync with your body, stretching, warming up, training intuitively, eating healthy, resting and sleeping enough.
My style of teaching is interactive and involves using visual cues and explanations to help the client understand what we're doing and why we're doing it.
Training Specialty includes:
Weight Training
HIIT Training
Weight loss Training
Resistance Band work
Certifications:
BSc in Exercise and Sport Science at Kenyatta University, Kenya.
FINA Advanced Level 1 Swimming Coach
Hi everyone on, I'm Daniel, I'm Occupational Therapist ( ergo therapy).
Languages Spoken:
Farsi

English

Arabic (beginner)
Diplomas:
About Me:
I was born in Iran and I got my Master and bachelor in "Iran university of medical sciences". And because of my major I have good knowledge of neuroscience, biology, psychology, neuromuscular and musculoskeletal disease, human biomechanics and anatomy. I am here to help you in the first step get to know your body better, to raise your body image, increase your awareness about stretch benefits and giving you an amazing experience with stretching techniques and. then teaching to you how to prevent the injury and If you have any injuries or postural disorder, pain or muscular discomfort help you to solve it for your better future and joyful life. 
For the last 5 years  I worked in different rehabilitation clinics with different client in different ages. I worked with neonates, toddlers, children, adolescents, adults and elderly adults to help them having more enjoyable and meaningful life by helping them improve their physical, neurological , psychological disorders with using rehabilitation techniques such as manual therapy, stretching, muscle strength, mindfulness, cognitive therapy, kinesiotaping, joint mobilization, PNF, and…
In this years in addition to I have worked with more than 2000 people with different injuries such as sport injuries, stoke, myopathy, neuropathy, joint problems( osteoarthritis, rheumatoid arthritis, and…) rehabilitation after surgery, fracture, burn and…. I tried to increase my knowledge so that I learned more and I have certification in Acupuncture, children and adults massage and mental health.